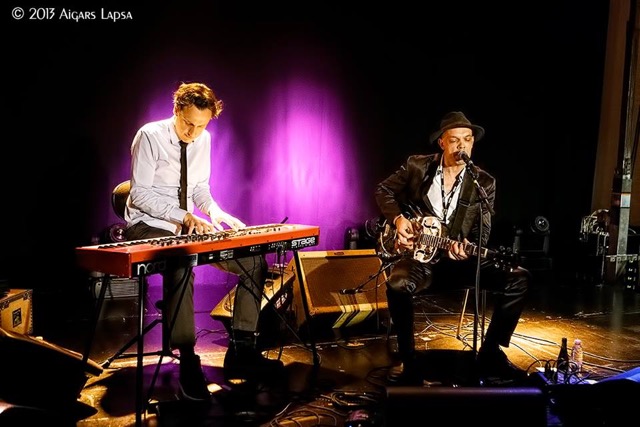 Thorbjørn Risager og hans orkester oplever stor succés for tiden med bl.a. 2 DMA-statuetter for bedste bluesudgivelse i 2013 og 2014 samt stor tysk kritikerpris Preis der Deutschen Schallplattenkritik
Der er også et nyt album med release d. 26. april 2018 og i den forbindelse er der også en lille turné i det ganske danske land. Køb albummet her!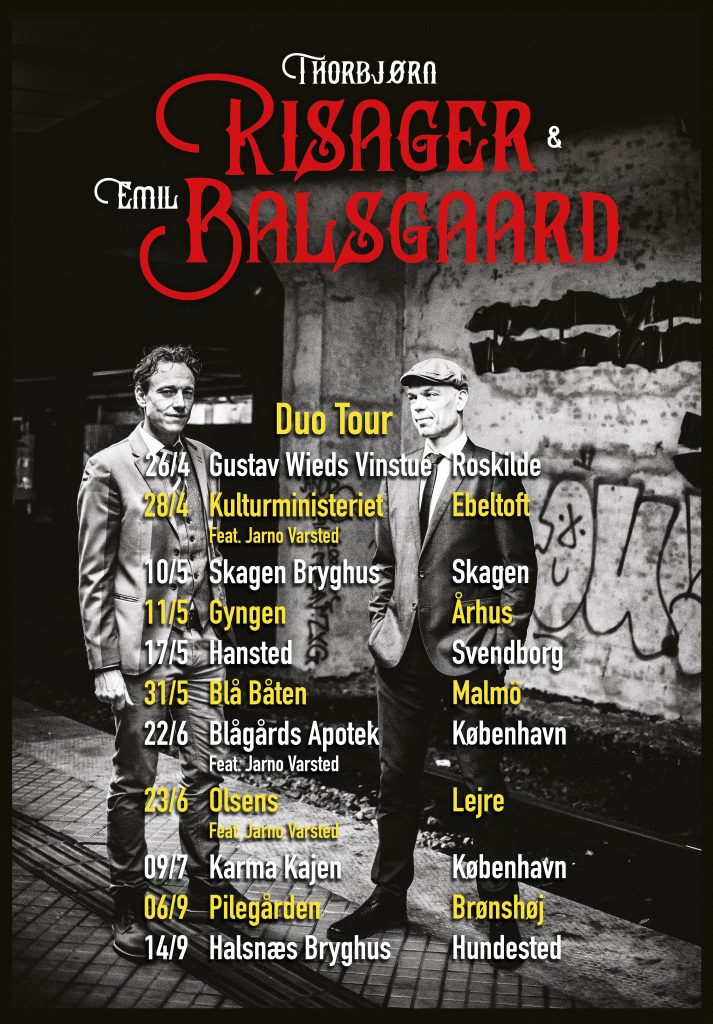 I får nu muligheden for at booke Thorbjørn Risager til en koncert under mere intime omstændigheder, nemlig i duo-format.
Med sig har han sin faste makker Emil Balsgaard, der anses for at være landets fornemmeste repræsentant indenfor boogie-piano stilen. Sammen med Risagers konge-vokal og guitar leverer de et uimodståeligt swingende groove når de fortolker gamle blues- og New Orleans klassikere, krydret med et udvalg af Risagers egne soul/blues kompositioner.
BT *****   Thorbjørn Risager & The Black Tornado er ikke bare Danmarks bedste i bluesrockgenren. Både som komponister, musikere og samlet liveband er de ganske enkelt i verdensklasse. Og både Gary Moore og Muddy Waters vil være stolte af at dele kapitel med Thorbjørn og co, når historien engang skrives."
Gaffa *****  "Men sandheden er den, at danske Thorbjørn Risager er det tætteste, vi herhjemme kommer en blues singer-songwriter i champions league klassen"
Rootszone *****  "Mange tidligere udgivelser har denne lige-ved-og-næsten fornemmelse, men Songs from the Road har hele pakken. Eneste minus er at Risager bliver så efterspurgt i udlandet, at vi får svært ved at fange ham og hans sorte tornado på de danske musiksteder!"
Jyllandsposten ****  "Risager har fortjent opnået anerkendelse i bl.a. Tyskland, England og USA, og udgivelsen illustrerer, at han kan bide blues-skeer med hvem som helst"
If ever there was ever a case to be made for a European blues band emulating or surpassing their American counterparts, then you need look no further than Denmark's Thorbjørn Risager & The Black Tornado.  Pete Feenstra, Get Ready To Rock (UK)
Risager's voice is one of the deepest, most intriguing voice of the entire music scene…. Music is a fabulous art and there are very few bands out there, able to sound as good as Thorbjorn Risager & The Black Tornado. A treat for all music lovers. Giovanni "Gio" Pilato, Bluebird Reviews (US) 
Lyt til musikken her og tjek os yderligere ud her!