Here's the tracklist on our forthcoming and remastered compilation "Thorbjørn Risager – Between Rock and Some Hard Blues – The First Decade" incl. 2 unreleased bonus tracks!!!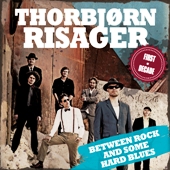 1. ROCK 'N' ROLL RIDE
2. PRECIOUS TIME
3. RHYTHMS OF THE NIGHT
4. BACK HOME
5. THE STRAIGHT AND NARROW LINE
6. YOU WALKED RIGHT IN
7. STAND BESIDE ME
8. GET UP, GET HIGHER (BONUS TRACK)
9. BURNING UP
10. YOU CAN HAVE IT YOUR WAY
11. END OF TIME
12. SINGLE TEAR
13. EYES THAT TURNED AWAY
14. LOVE TURNED COLD
15. LET'S GO DOWN
16. I WON'T LET YOU DOWN
17. HEART OF THE NIGHT
18. IN THE BACK OF MY MIND
19. YOU BETTER PAY ATTENTION
20. ON MY WAY
21. GOOD THING
22. FROM NOW ON
23. 7 STEPS TO HEAVEN
24. IN THE BACK OF MY MIND (BONUS TRACK)
25. AIN'T EVER GONNA LEAVE NO MORE
26. TAKE IT OF
27. ALL I WANT
28. I'LL BE MOVING ON
29. DOWN HOME BLUES
30. BABY PLEASE DON'T GO
31. BELLS OF JOY
-Produced by Lars Skjærbæk, Billy Cross, Marc Tee and Thorbjørn Risager Band.
-Bonus tracks mixet by Jesper Yebo Reginal and mastered by Mikkel Gemzøe.
Stay tuned for more info!!! 😉